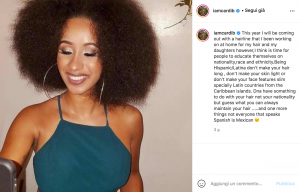 She also spoke of the preconceived notions of beauty linked to ethnic origins. "People think that every Hispanic is Mexican or something and should have the same structure of the hair, color, and features. Being hispanic or latino does not make your hair long, does not make your skin clear and doesn't make your facial features thin, especially if you are from Latin countries of the caribbean islands… the DNA has something to do with your hair, not your nationality."
Even if you have not yet been revealed details on the type of products available, Cardi B has confessed that he is experiencing in the house on her hair and on those of her daughter.
Giving you a look at the old posts
, like the one that showed the mask DIY to nourish the curls, we can assume that in the formulas, there will be many natural products with moisturizing properties, such as the avocado.