From heaven to hell. MSCHF
,
the collective of Brooklyn, which has created the "Jesus sneaker"
,
launched the network's latest creation, the viral, the Satan's shoes, over the weekend. Still a pair of sneakers, the Nike Air Max 97, customized, this time in collaboration with rapper Lil Nas X.
The sneaker was released to celebrate, in fact, the last single by the rapper "MONTERO (Call Me By Your Name)".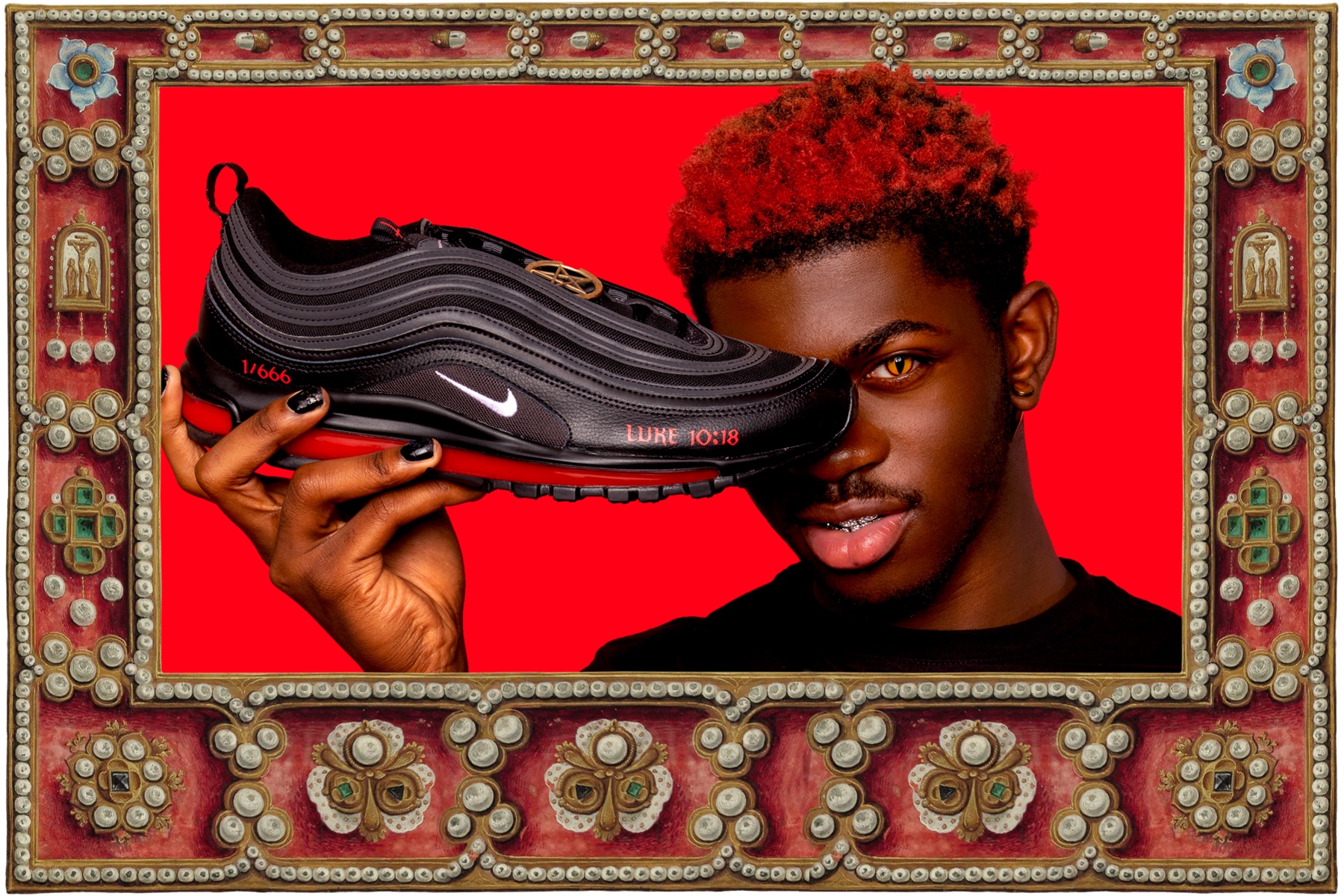 The sneaker seems to be the sequel to the much acclaimed Air Max 97 blessed by the holy water and soaked in the incense, the outputs in the sun 14 pairs of almost two years ago. But this is not the case of the blessings. The sneaker features an aggressive look, a proposal in color "Triple Black ", which the reigning sovereign, a series of red details. First of all, is the inscription "Luke 10:18 ", recall the verse in the Bible which reads this scene: "I saw Satan fall like lightning from heaven "; on the heel is then recorded the number of the pair of 666, the number is not causal, were realized. Another key feature is the satanic star made as if it were a jewel and applied to the lacing system.
But the real blow of the scene, shoebox, resides in the content of the Air unit of the Air Max 97 "Satan". As reported by MSCHF, inside were inserted 66c of red ink accompanied by a drop of human blood.
Nike, this time, has not taken part in the project. On the contrary, before the giant footwear has clarified his non-involvement with the collaboration on 28 March for the first time.
"
We don't have a relationship with Little Nas X or MSCHF. Nike has designed or released these shoes and not approve
".
While on 29 March, according to reports, Nike has also filed a lawsuit against MSCHF
. According to the brand, the shoes are "
not authorized brand based in Brooklyn may cause confusion and dilution, and create an association in the wrong among the products of MSCHF and Nike"
.
Daniel Greenberg, one of the founders of MSCHF, has confirmed that Nike was not involved in the collaboration.
The drop of the sneaker MSCHF x Lil Nas X was scheduled for 29 March at 17:00 Italian on the dedicated website https://satan.shoes. The 666 pairs made available for $1.018 each have been exhausted in less than a minute.