When Nike made its Go FlyEase silhouette
,
the first sneaker to be worn without hands,
the brand was praised for its efforts to create a shoe that all could wear.
People with disabilities included. However, like many other Nike models, the sneakers were released in a limited version.
This meant that the Go FlyEasy cost $ 120 was resold online for up to $ 2,000. As we know, exclusivity and hype are two factors that push capitalist behavior a lot. And so someone was asked:
how can Nike market something so accessible and then limit it?
Louie, who suffers from arthrogryposis (a clinical condition characterized by joint stiffness) and blaming these retailers, most of the blame for this situation lies with Nike. "Nike could do more and could do better if they really want the shoe to be accessible to people with disabilities. But they're making money anyway, so why bother?"  The boy suggests that Nike could do two things. Do not limit the shoe, and therefore allow everyone to buy; Distribute it to hospitals that work daily with people with disabilities. "But sadly, months later, I don't see that happening," says Louie.
In the past, Nike tried to fight retailers by selling certain silhouettes via lottery-based draws or giving first access to a certain group of people.
It happened with the recent
Aleali May
model. The brand has prioritized selling to women as the design was meant for this category.
But here, Nike has leveraged inspirational stories of people with disabilities to sell to the masses without giving first access to those with disabilities.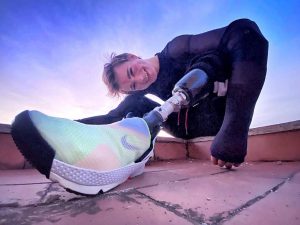 How did Nike respond to the boy's accusations? "
The response to Nike Go FlyEase has been incredibly positive,
" said a Nike spokesperson. "
Due to the huge demand, we are unable to serve all of our members at this time. We promise that more units and additional colorways of the shoe will be available in the coming months.
" Currently, t
he Nike FlyEase collection is not yet available on the website.
The downfall of Nike's power is not new. In January,
the Financial Times asked itself this explicitly: "Can Nike Keep Its Cool?"
. The effective pun.
In fact, the brand was called upon to keep calm ("cool") and remain appealing.
When you want to focus on the founding values of your brand, which combines sport and social claims, for the American giant, it is increasingly complicated. In fact, for some years, his presence has thinned out. The sales channel has changed, and internet retail prevails in its place. The SNKRS app, in 2015, was a watershed. In addition to cutting out old retailers, it has created a collectors' market.
Doubt is raised, and perplexity remains. What is Nike's true identity? And she above all she knows how to keep, first of all, faith in the words you say you? The risk is that campaigns in favor of inclusion and minority rights are seen as commercial hypocrisy. And we are sure that for sure, it would make the Nike brand much less cool.