We all know how close and consolidated the relationship between rap and fashion is. It is not limited exclusively to collaborations between brands and rappers, this is mainly transmitted through music. Run DMC were the first to dedicate a song to a brand, My Adidas, and since then mentioning at least one brand in their single has become a must. And if in the beginning the fashion system did not look favorably on the rappers' passion for luxury brands, today the two realities have come closer and closer, almost merging. But what were the most cited brands in the most listened to rap songs in 2020?
A question that found an answer due to the work of Gabriele Murtas, Ph.D. student in Business & Law at the University of Bergamo. In his work  Hip-hop and Luxury Fashion: a never-ending love, Murtas analyzed the seven songs featured in Billboard's Rap 2020 Top 20, highlighting the close link between luxury brands and rap. According to the ranking, we find the first place Gucci, mentioned in three songs, followed by Chanel and Prada with two. Céline, Dior, Louis Vuitton, Pucci, Valentino, Yves Saint Laurent, Hermès Birkin and Virgil Abloh close the ranking.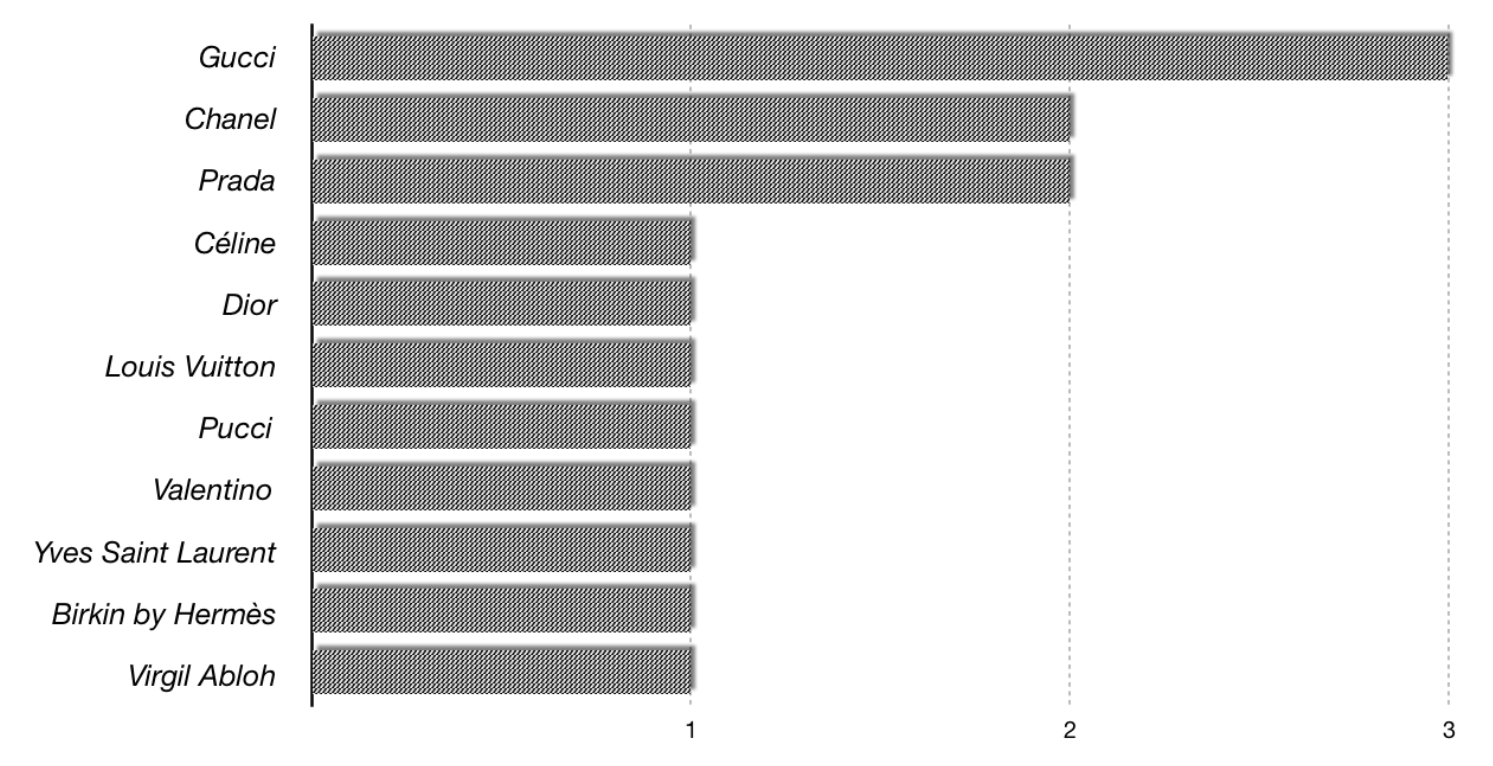 "It is interesting to note that Virgil Abloh is the only designer mentioned among the brands mentioned in the top 20," says Murtas. "At the moment Abloh is certainly one of the most popular designers on the market. Reading her name alongside other far more established fashion brands can actually increase the legitimacy of both her brand and her artistic creations in the realm of luxury. "
Yet it is not the first time that Gucci turns out to be the winner. It was mentioned in 132 tracks only in 2014 and 68 tracks in 2015. A first place awarded together with Versace, Prada and Nike. But at the time, mostly street brands found space in the Top 10. In addition to Nike mentioned above, there were also adidas, Timberland and Supreme. A scenario also revised two years later, in 2017, with the ranking of Musixmatch, the leading app in sharing song lyrics. Once again Gucci was the winner followed by Nike, Versace and Armani. However, according to what was reported by the Wall Street Journal, which has compiled the ranking of the brands most cited by rappers in the last 10 years, in the first place we find Fendi, mentioned 851 times. The Florentine maison only 825.
A little curiosity. In 2013, rapper A$AP Rocky mentioned no less than 17 brands in his song "Fashion Killa".