The countdown is over. After the online anticipation from tomorrow 16th October, the new Fendi capsule collection in collaboration with Nicki Minaj will be available in 52 single-brand stores. With the name Fendi prints on, the line is ironic, playful, flashy, and explosive.
A feminine, masculine and kidswear proposal that takes space age to the next step. The futuristic inspiration and the high-end glamor of the brand led by Silvia Venturini Fendi proved to be able to masterfully collect the legacy of the historical womenswear creative director Karl Lagerfeld and to continue to support Minaj, already linked to the Kaiser.
"What I want to say to the girls is that if you have a body with curves, you have to go for it and above all you have to show it. Love the body you have! I wanted to create clothes that could make the girls with a body similar to mine, and not sexy ». Word of Nicki Minaj.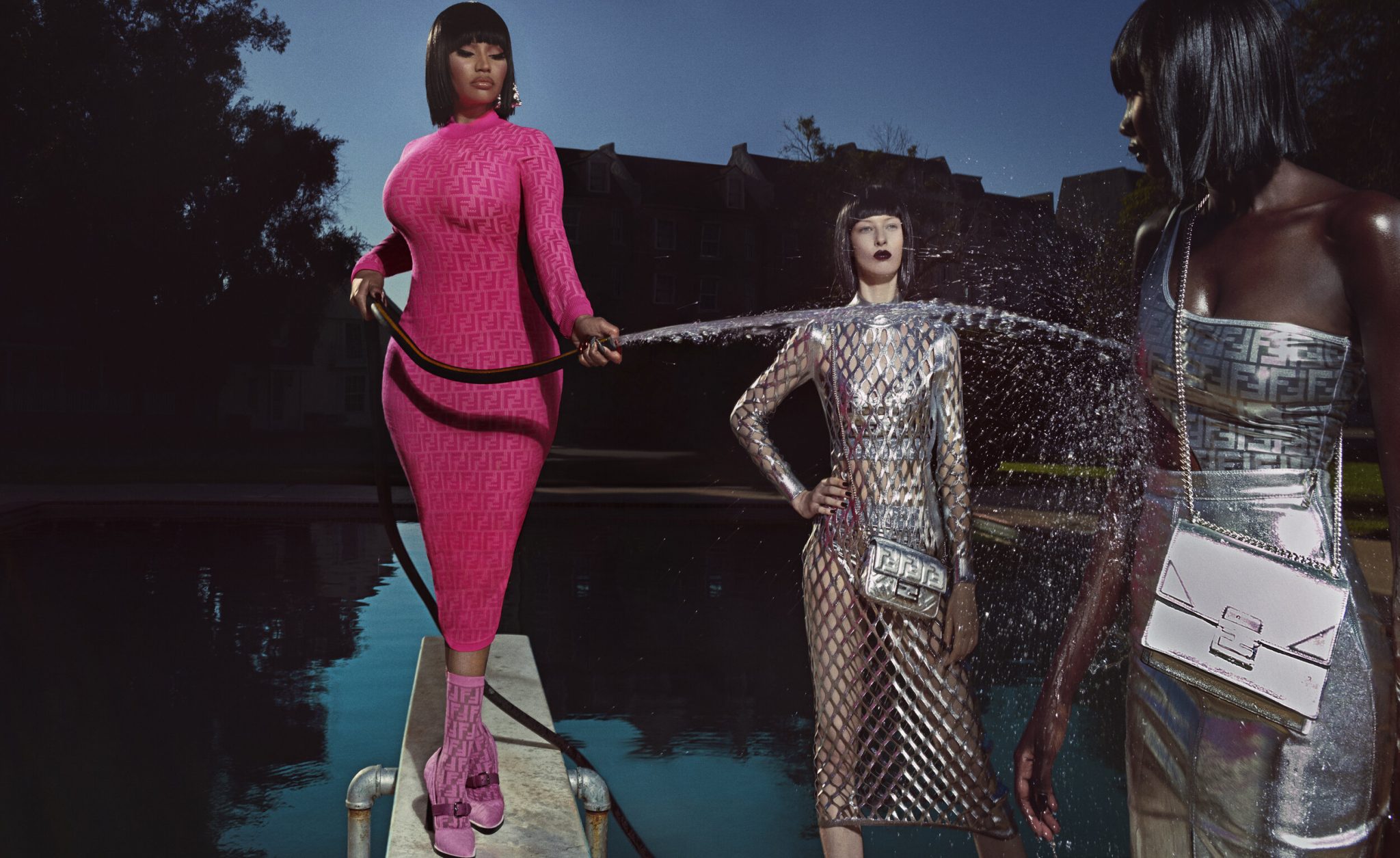 A clear vision and a scenario designed on purpose will welcome the leaders present. Reversible puffers and oversized coats, a nylon organza windbreaker jacket, one-piece swimsuits and swimsuits and triangle bikinis, t-shirts and sweatshirts, but also super-tight silhouettes with exploits of details such as a cascade of embroidered sequins on a tulle dress and asymmetrical cutouts that emerge from a close-fitting dress on the body. We present the all-over motif of the FF logo combined with metallic and shiny surfaces. The spotlights are lit on a designer and biting tribute to hip-hop and street culture that will bring four selected Fendi shop windows across Europe tomorrow. In addition to the historic Palazzo Fendi boutique in Rome, the Milanese store in Via Montenapoleone will be the only other Italian store with dedicated shop windows, except for the multi-brand Antonia. And finally Paris and London, respectively on avenue Montaigne and New bond street, in the Mayfair district.
The accessories are not inferior and complete the look thanks to moonboot and sneakers with hidden wedge, I know Eighties. A silver invasion that alternates with fluorescent pink and contaminates the bags of the Roman fashion house. Embossed sequins and logo dress in metallic silver a multi-equipped belt bag and the new Kan U, as well as Peekaboo and Baguette of all sizes. In addition, this latest model is also available in hot pink.
In addition to womenswear, some pieces are genderless, like sneakers, jeans and hoodies. Next to it, there is a leisurewear designed specifically for him, including prints featuring the portrait of the singer, joggers, shirts and baby carriers. All pieces true to the palette. The short film that started the countdown for the launch of the collection under the beat of the new Fendi hit of the trapper is signed by the photographer Steven Klein.
«We don't have a target. At Fendi we are open to experimentation, "concluded Venturini. "This is the strength of our fashion house, it's something we learned from Karl."