The French luxury group LVMH is launching a new online platform. On this, we will sell fabrics and leathers unused by the production of prêt-à-porter and accessories of its brand
.
The initiative represents an important step towards a system of fashion more sustainable and circular.
It is also good news for the designers who use fabrics, deadstock as an alternative economic (and ecological) to the new production materials.
France
,
the LVMH group's homeland
,
is also exploring the possibility of banning the marks burn or destroy clothing unsold.
This will force more companies to consider the upcycling and sale of textiles in excess from the productions.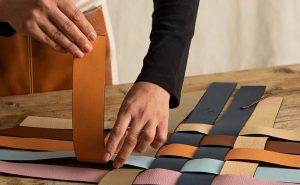 Also, according to the website of the american Queen of Raw materials unused cost the fashion industry with us $ 120 billion per year.
"
For so long, wasted is gone, and no one was paying attention
," she told Business of Fashion, Stephanie Benedetto, co-founder of Queen of Raw.
The site specializes in the sale of textiles in excess by the production of ready-to-wear.
In Europe, the Swedish company Rekotex was founded with the same goal
: to create a circularity between producers' fabrics in surplus and new brands in need of those resources.
The initiative reminds us of that of the collective American
MSCHF
. In February,
the brand has decided to take advantage of the popularity of Birkenstock to imagine a curious collaboration between the German company and Hermès.
Wondering how?
The slippers are made with the material coming from real Birkin, now too worn to be as functional bags.
The prestigious it-bag becomes the constructive part of a sandal silhouette, which until not long ago was considered the anti chic par excellence.
The new shoe is called Birkenstock.