Il gruppo francese del lusso LVMH, sta lanciando una nuova piattaforma online. Su questa si andranno a vendere i tessuti e le pelli inutilizzati dalle produzioni delle collezioni prêt-à-porter e accessori dei suoi brand. L'iniziativa rappresenta un passo importante verso un sistema moda più sostenibile e circolare. È inoltre una buona notizia per i designer che utilizzano tessuti di deadstock come alternativa economica (e soprattutto ecologica) ai materiali di nuova produzione. La Francia, patria del gruppo LVMH, sta anche esaminando la possibilità di vietare ai marchi di bruciare o distruggere indumenti invenduti. Questo costringerà più aziende a considerare l'upcycling e la vendita di tessuti in eccesso dalle produzioni.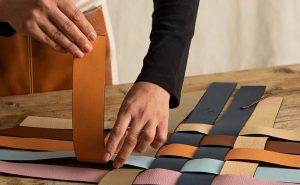 Inoltre secondo il sito americano Queen of Raw i materiali inutilizzati costano all'industria della moda 120 miliardi di dollari all'anno. "Per così tanto tempo questo sprecato è andato avanti e nessuno ci stava prestando attenzione", ha detto a Business of Fashion Stephanie Benedetto, co-fondatrice di Queen of Raw. Il sito è specializzato nella vendita di tessuti in eccesso dalle produzioni di ready-to-wear. In Europa l'azienda svedese Rekotex, è stata fondata con lo stesso obbiettivo: creare una circolarità tra produttori con tessuti in avanzo e nuovi brand bisognosi di quelle risorse.
L'iniziativa ci ricorda quella del collettivo americano MSCHF. A febbraio il marchio ha pensato di sfruttare la popolarità delle Birkenstock per immaginare una curiosa collaborazione tra l'azienda tedesca e Hermès. Vi state chiedendo come ? Le ciabatte vengono realizzate con il materiale proveniente da vere Birkin ormai troppo usurate per essere funzionali come borse. La prestigiosa it-bag diventa così parte costruttiva di una silhouette di un sandalo che fino a non molto tempo fa era considerato l'anti chic per eccellenza. La nuova scarpa è chiamata Birkinstock.