This award season has been more a trendsetter for the next! The red carpets were full of surprises by the unexpected choices of people's dresses. As every past award seasons, the women ruled the red carpet with their intricated clothes, so it was a shock for all of us when on the list of best dresses, the guys were the ones on top of every list.
Finally, after all these years, the women of this season were able to escape the famous dreading question of "what dress are you wearing"? that always made them feel un-equals with the guys and made their role seem just to look pretty and smile for the camera.
The majority of the women chose a dress opted more for a modest dress or a suit, instead, the men took their chance to be recognized by their sense of style finally, and went all out for it, becoming new fashion icons.
I honestly love this fresh change, I think it's a long time coming, and so far I am living for it. It's such a fresh air to see that now, women can be badass on the carpet and wear a suit without having to be seen as masculine and a man is not afraid to look feminine if he wants to wear pink or wishing to have a more stylish outfit. This is the beginning of a gender-bending fashion.
These are my top choice of people that slayed the carpet with their gender fluidity outfits: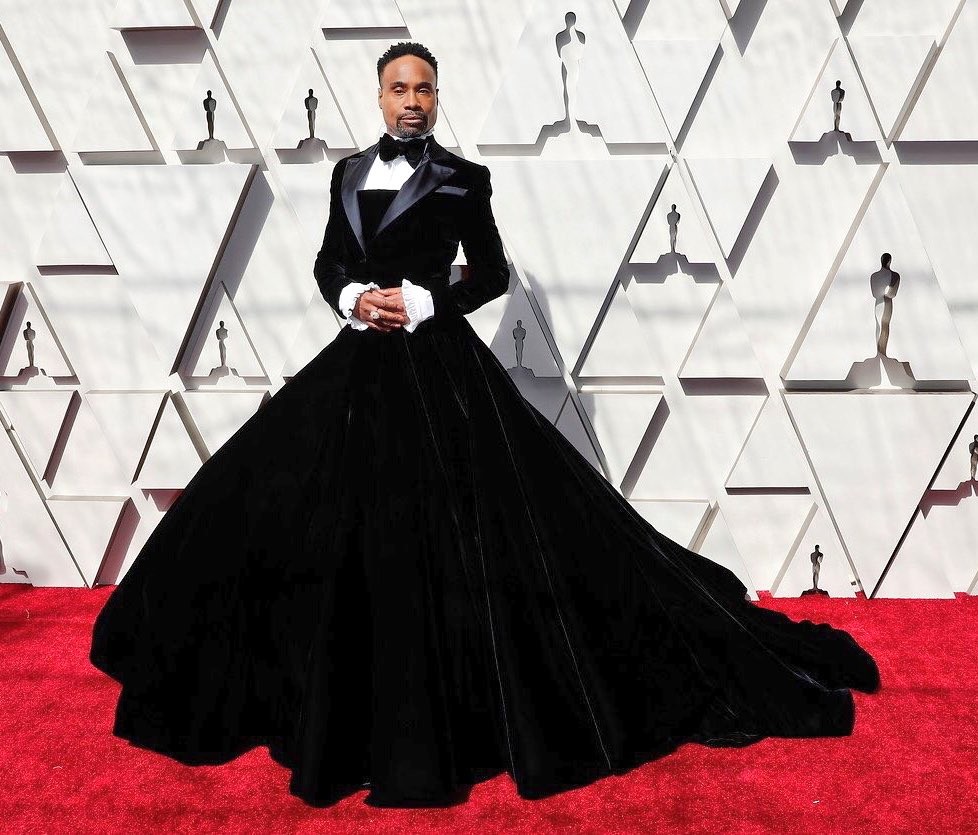 Billy Porter
He officially broke the internet with his incredible outfit. The tv series actor of "Pose" stuns everyone by showing up at the Oscars wearing a custom velvet and satin elegant tuxedo jacket over magnificent ball-gown by, the one and only, Christian Siriano. I've officially become obsessed with him. He was absolutely a showstopper for me.
Amy Poehler
The actress wore for the Oscars a custom black tuxedo jacket with coattails and a button-down shirt with ruffle on top. The outfit was all made by Alberta Ferretti. I think it was very fit for her personality and her confidence was radiating from her.
Timothee Chalamet
The young actor is becoming a fashion icon with all these past glamourous outfits that impressed the spectators. For the Golden Globes, he wore a Louis Vuitton harness over a mock neck designed by Virgil Abloh. He definitely is not afraid of incorporating some drama in his outfit!
Nicholas Hoult
The Oscar-nominated actor for the movie "The Favourite", stunned all the photographer when he showed up, wearing a tuxedo with an intersected jacket which featured decorative pleats by Dior. The jacket was such a statement, and everybody very appreciated it.
Awkwafina
The funny actress from the movie "Crazy Rich Asians" wore a stunning shimmering pink ensemble suit by DSquared2 with a button-down shirt with ruffle on top. I thought this look matched her personality perfectly and it made me want to get more daring with my dress choices in the future.
Jason Momoa
The man who able to make men and women fell in love with him during his role of Khal Drogo in Game of Thrones, wore the cutest outfit ever. The star wore a pale pink suit that perfectly matched with a coordinated scrunchie for his hair.
Karl Lagerfeld made the look for Fendi. This I think was my favourite look. Jason made it wearing a pink suit with a scrunchie masculine.