Are synthetic diamonds the future? Surely they have nothing to envy to those extracted and, therefore, natural. They are created starting from a "seed" of the coal, placed inside a room at the micro-waves with methane or other gases. Once heated, it creates particles that crystallize into diamonds. An advanced technology that has allowed us to reduce costs and the geological time to get a mineral. To make a synthetic diamond in just a week, to a real one, serving thousands of years.
To this must be added the question of sustainability. A reduction from the resources used (such as water and fuel); respect for the environment (no need to drill holes in mountains or dig up the mantle of the Earth); safety in the workplace, the use of adults, and adequate wage. The creation of these stones in the laboratory takes place in full respect of the environment and its workers.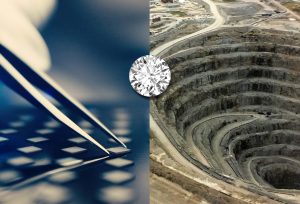 In addition, synthetic diamonds, even if they cost less (can you reach a cut of the final cost by up to 50%), do not lose the beauty and authenticity. At a glance, you can't tell the difference because they will have the same chemical and physical composition and, therefore, are not false. And not only. Synthetic diamonds are also the most beautiful. In the laboratory, it ensures more brightness and purity, being able to play with the colors. 
The first houses to guess their potential have been
Diamond Foundry
,
Brilliant Earth
, and
Pure Grown Diamonds
.
They were followed by De Beers when in 2018, it launches the collection, Lightbox to try to combat the counterfeiting of diamonds mined, but also to get closer to a younger audience
, always sensitive to ethical issues and sustainability.