Over the past three years, there has been a lot of talk about Vetements having decayed.
It has gone from a revolutionary reality to a parody of itself.
After the abandonment of Demna Gvasalia, the creative process was entrusted to his brother Guram
, who tried to keep the brand's philosophy intact. The result, however, is not convincing.
Guram has led the brand towards a stalemate that is evident to all.
The collections are the result of "recycled" ideas and provocative initiatives that are no longer able to hit the mark.
In short,
what is missing is evolution
.
The brand seems to be aware of this problem, and it appears that it is already thinking about a rebranding plan.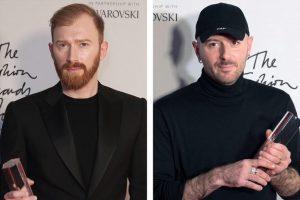 A few days ago, The Fashion Law, reported that Vetements would apply for a trademark for new names and a new logo. These will be linked to the creation of a future second line of the brand. Also, according to TFL, from April 2020 to February of this year, Vetements would have applied for registration the name "VTMNTS", with its logo at offices in the United States, Europe, and Switzerland. One of the most plausible hypotheses is that the new wording, devoid of vowels, is intended to create a diffusion line. These are clothing, accessories, jewelry, sunglasses, and other cheaper and less limited items from the big Maison.
However, it is not yet clear whether the brand founded by the Gvasalia brothers is preparing for the launch of new collections or whether it is aiming for a more structural rebranding. There are many difficulties and legal battles to register a brand name. Even the parent brand's name is considered by several courts to be too generic and not sufficiently identifying. In French, Vetements means "clothes".
Either way, we're sure there will be an important announcement soon. So we have to wait.