No Angels this Christmas.It's official, the most awaited show of all time this year has nothing to do! We are talking about Victoria's Secret Fashion Show and the news comes from the top of the lingerie company: «The show was a very important part in brand building and considerable marketing success. "We're trying to figure out how to advance brand positioning to speak better to our customers," said Stuart B. Burgdoerfer, finance director and executive vice president of L Brands, to which the brand belongs.

For months now, thanks to some statements by one of the most famous models of the show, the Australian Shanina Shaik, who had let herself escape with the Daily Telegraph last month, was in the air. the fashion show, we would not have seen the show. The decision seems to be in step with the times in the perspective of a different vision of the female body. From Alessandra Ambrosio to Miranda Kerr, from Gisele Bündchen to the Hadid sisters, they have always been statuesque and beautiful girls to show, an ideal of perfection very far from reality, even if lately there have been openings towards other targets, from the first plus size model on the catwalk, Ali Tate (very little plus size, actually it's a 46), to the first trans model, Valentina Sampaio.
The credit also goes to the numerous beauty brands that have focused on the need to make their products accessible to all women, starting with Rihanna, who with her Savage x Fenty, has shown how one can be sexy and have different body shapes giving a moral (and real) slap to the ideal of statuary beauty of many lingerie brands.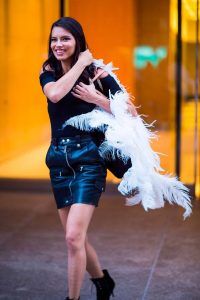 The world has changed (finally), and after 23 years the Angels lay their wings in the boxes and retire.