The fashion world knows this well. The fight against fakes and counterfeit products has been going on for many decades and has been fought with practically every means available, from identification codes to authentication guides, to blockchains. None of these solved the problem permanently, however. Even today, the counterfeit products of fashion brands are spread online without any control. In the United States,
Uswitch
conducted research analyzing Google search data to reveal the most sought-after brands in the fake market. Surprisingly in the Top 5 of the most sought after brands, shortly after the predictable Rolexes, Louis Vuitton, Gucci, and Yeezy, there are
Crocs
. Fake resin slippers are more sought after than Balenciaga and Off-White ™ products.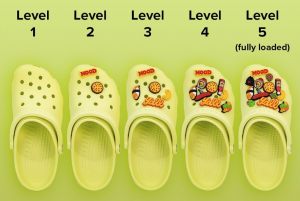 And the numbers speak for themselves. With an average of 25,200 searches annually, fake versions of Crocs clogs seem to have become more desirable than fake Nike and Balenciaga Triple S. And it is also for this reason.
The brand sued about 19 brands for copyright infringement this year
. The news is the result of the testimony of Crocs' repositioning on the market. A brand that has gone from being known for providing comfortable footwear to cooks and doctors in the hospital, at the foot of Salehe Bembury, Justin Bieber and Post Malone.
Crocs' success is also due to the pandemic with the rise of cozy clothing
. It was there that the brand implemented a market growth strategy. A series of targeted collaborations has allowed the brand to contact different subcultures, fandoms, and market segments.
Crocs' growth strategy was based on streamlining flagship stores and wholesalers and focusing on direct sales based on digital channels. The latter is now the source of 52% of the brand's revenue. Another strong point of the strategy was a reduction in lines and models for sale. Cut by 50% in recent years, it has made its aesthetic more precise and distinctive. Finally, personalization with the relaunch of its line of Jibbitz charms whose sales have doubled over the course of the year. Also thanks to the visibility on social platforms such as TikTok.
Thanks to its accessibility and its price points moreover, Crocs has managed to be successful among Gen Z members as CEO Andrew Rees explained to
Business of Fashion: "People call Crocs' ugly shoes' and I think Gen Z members like it because they are too. a generation that embraces imperfections ».